Reading time: 5 minutes

What's covered:
12 delicious Christmas dessert recipes to impress your loved ones,

Additional tips to make your sweet treats extra special,

Links to our Christmas Essential Fruit Box.
Now I'm hoping you're already in the Christmas spirit! I have got twinkly lights all over my flat, Christmas presents are already wrapped and festive music is playing as often as possible!
Following on from our post about how to make your Christmas feast that little bit more delicious, we have put together a selection of traditional and alternative Christmas Desserts that will wow your loved ones. I'm going to be in my element writing these for you as I have a sweet tooth, I hope you do too! From Mince Pies to Clementine Jelly, we've got you covered!
All of these delicious recipes and ideas include ingredients that you can find in our Christmas Essential Fruit Box.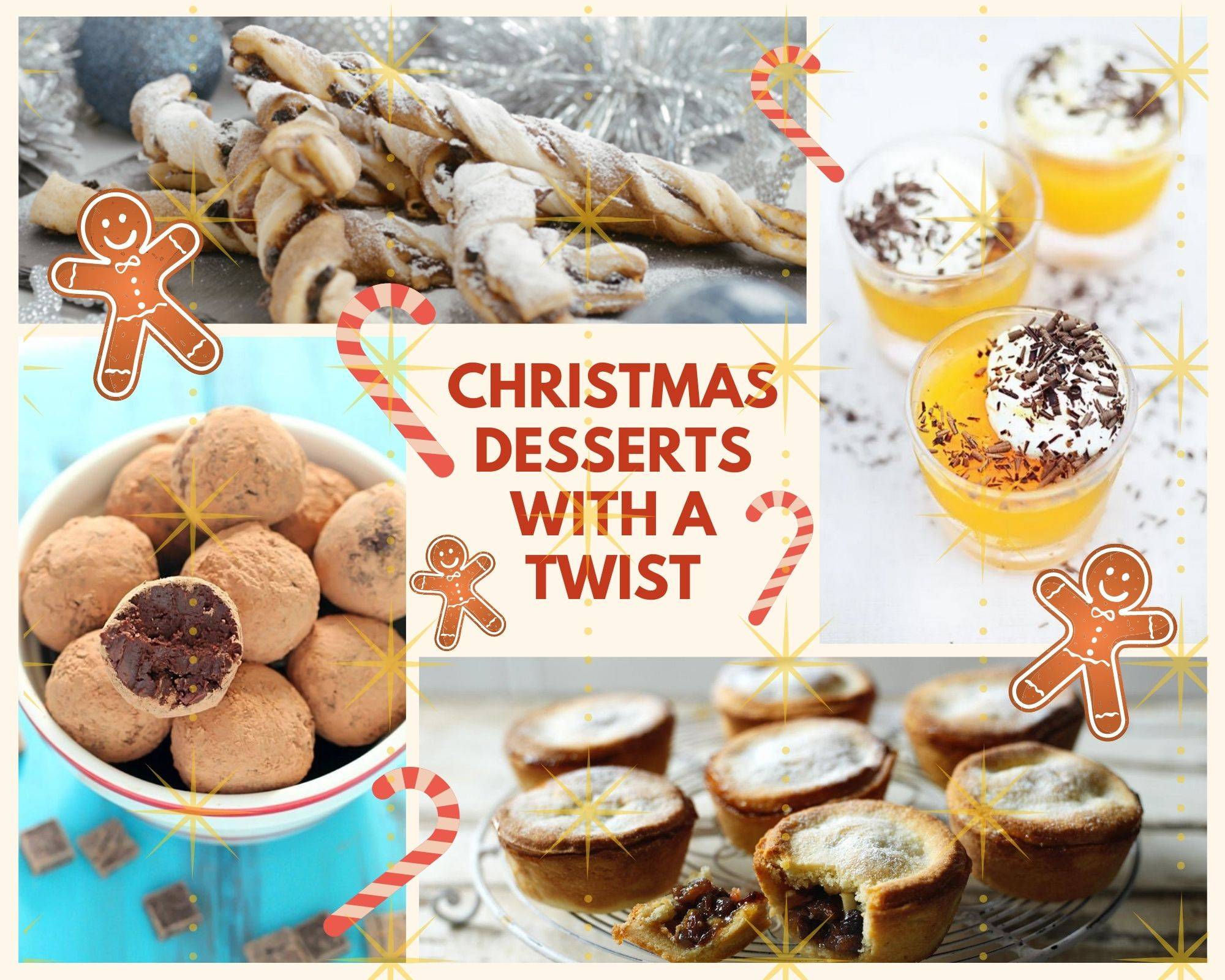 Avocado Chocolate Truffles
If you're not able to spend this Christmas with all of your loved ones, a lovely idea is to make sweet treats for them to enjoy and think of you! Give these Avocado Chocolate Truffles a go, yes you read that right! Avocado replaces butter or oil and gives an incredibly creamy texture. Whoever receives these homemade balls of goodness will struggle to eat just one!
I will definitely be trying this recipe over the festive period and you only need just 5 ingredients.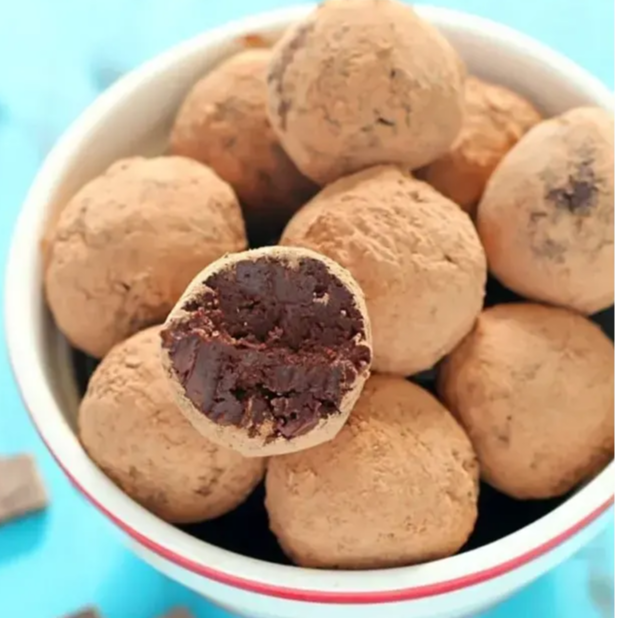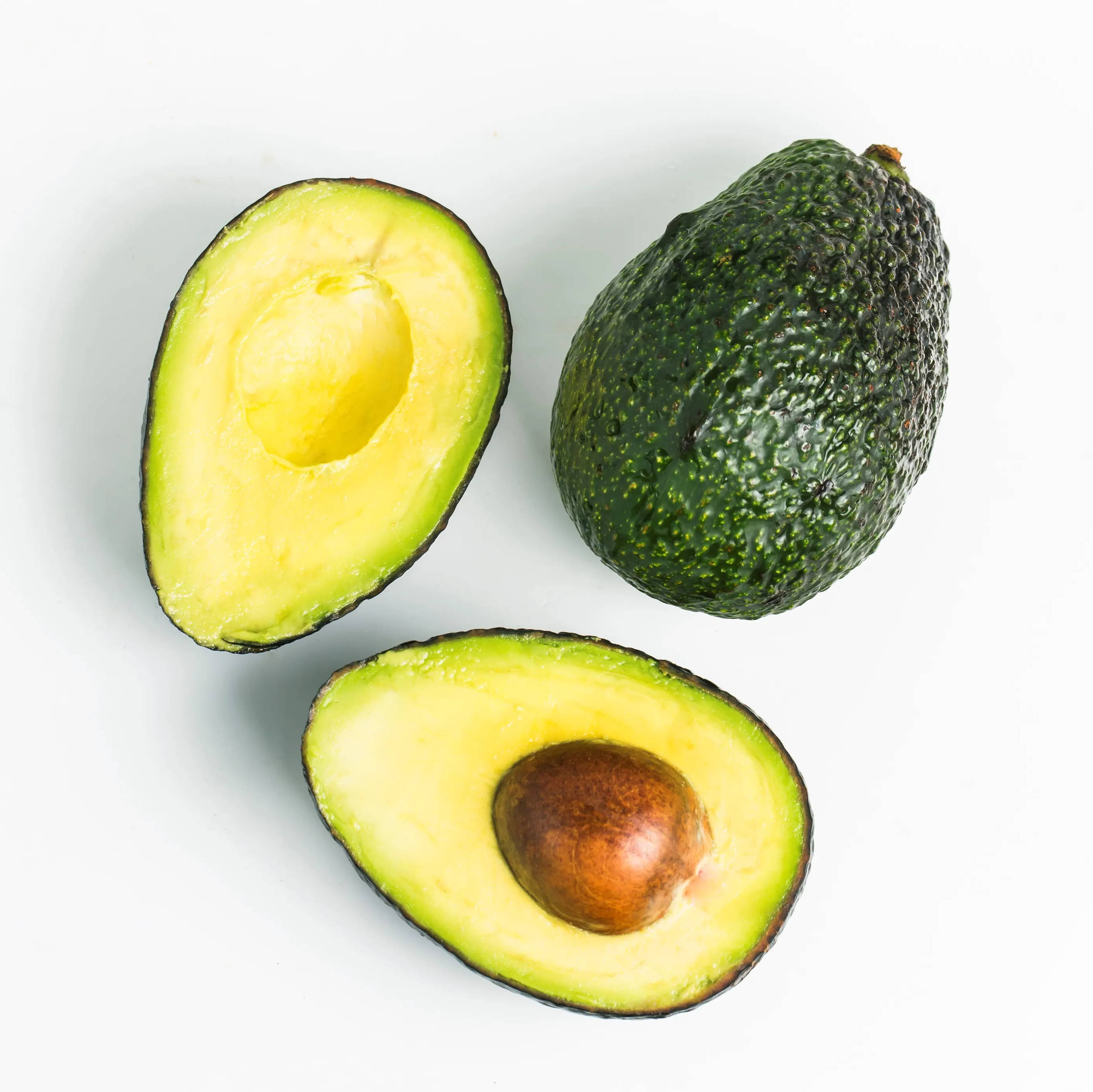 ---
Baileys Banana Trifle
If you don't fancy making a large Trifle or you don't have as many mouths to feed, this Baileys Banana Trifle makes a fantastic substitute. Use Baileys for the adults and swap for toffee sauce for the kids, both just as delicious! These mini Trifles take just 10 minutes to prepare and can be made ahead of time, ready for the festive period.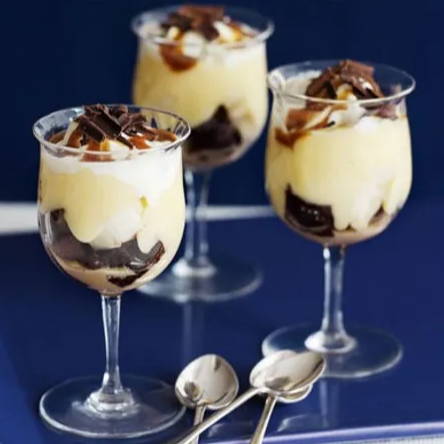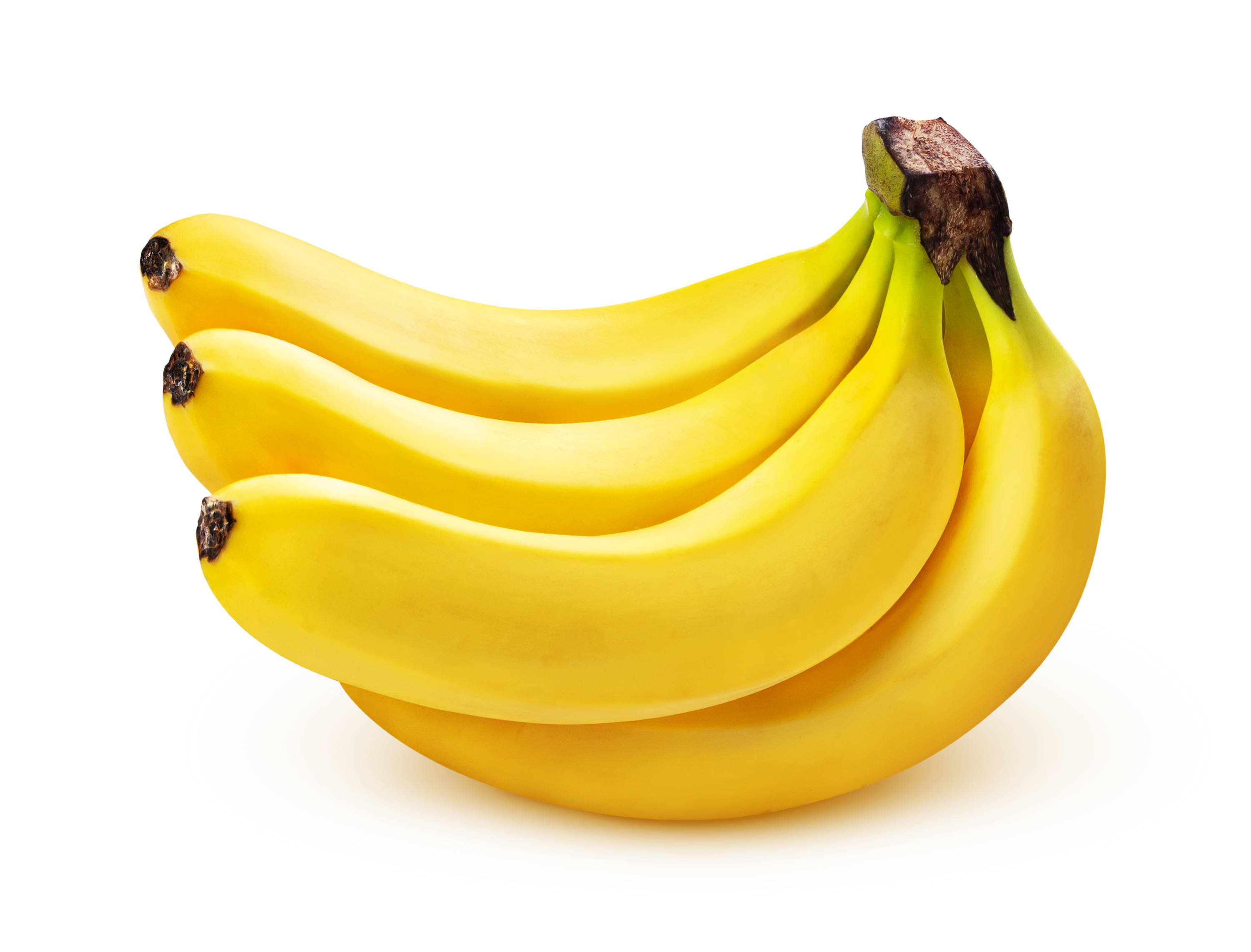 ---
Roast Pineapple with Rum and Ice-cream
Here's a super quick and easy dessert to whip up on Christmas Day afternoon. These Roasted Pineapple wedges with Rum are delicious, I promise! Peel and cut the Pineapple into 4 thick wedges and remove the core. Roast with brown sugar and dark rum for 20 minutes at 180C. Serve with your ice-cream of choice.
It's as easy as that! This one counts as one of your five a day, right?!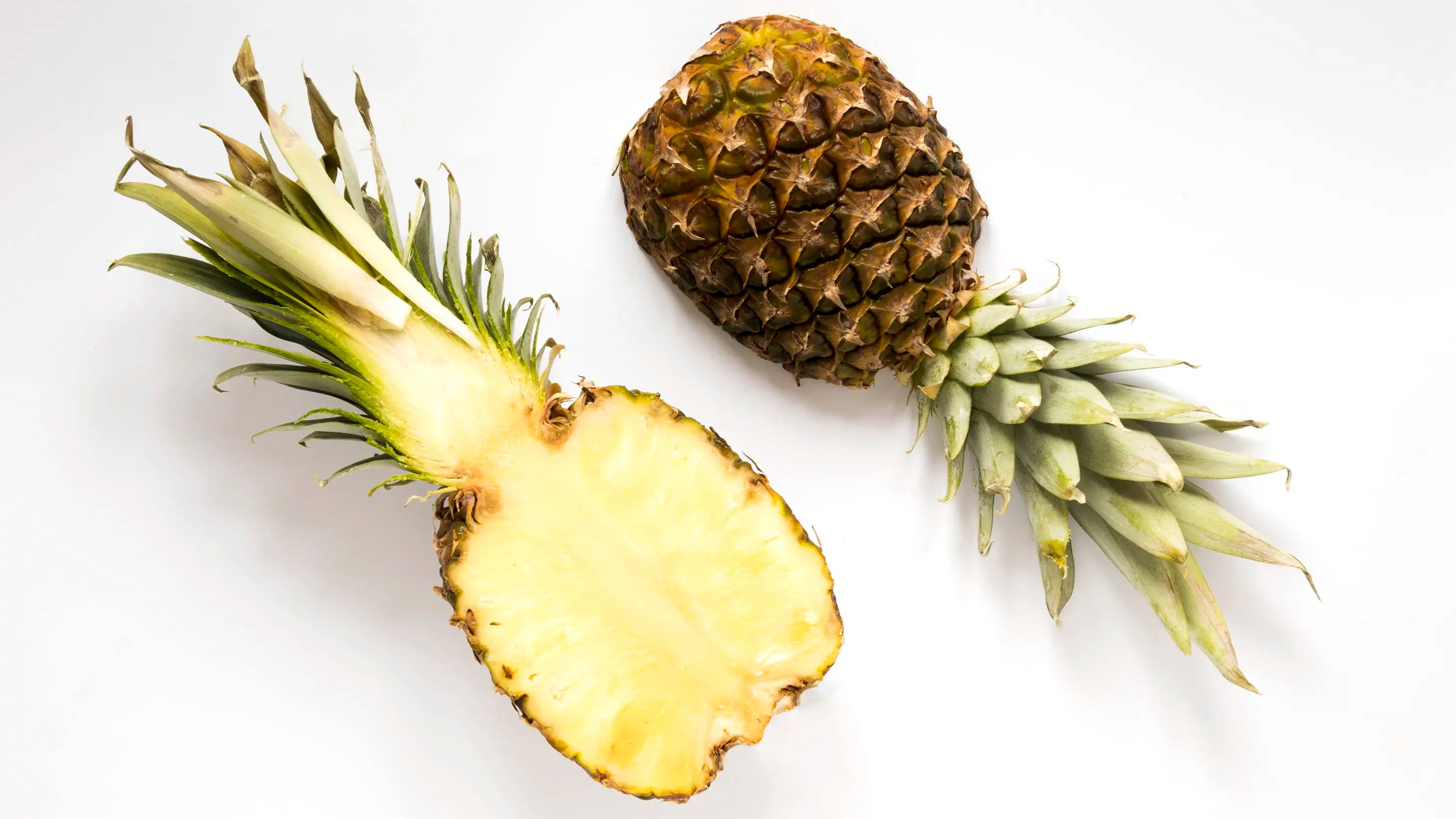 ---
Christmas Cake
Even if you are not a big fan of Christmas Cake, Christmas just wouldn't be Christmas without it! You can make this ahead of time and feed it regularly with your tipple of choice. Some of the ingredients can be found in our Christmas Fruit Box.
At the bottom of the recipe, it has a selection of handy tips to make it extra special, like using tea or flavoured syrup if you don't want to include alcohol.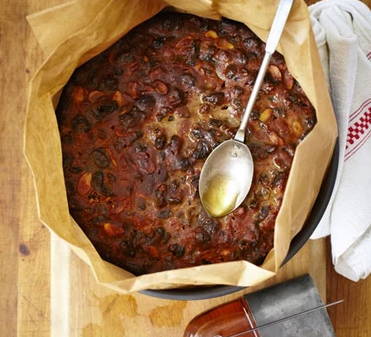 ---
Clementine Jelly
Clementines and Christmas go hand in hand so try this delicious and easy Jelly, suitable for all ages! Customise your topping to suit your liking, such as Cherries, chunks of Mango or extra chocolate shavings (I would go for the latter!).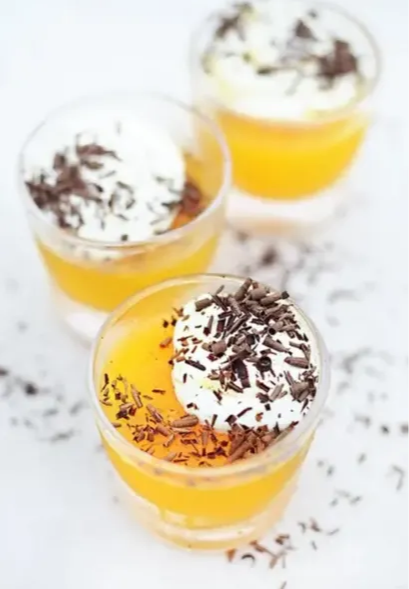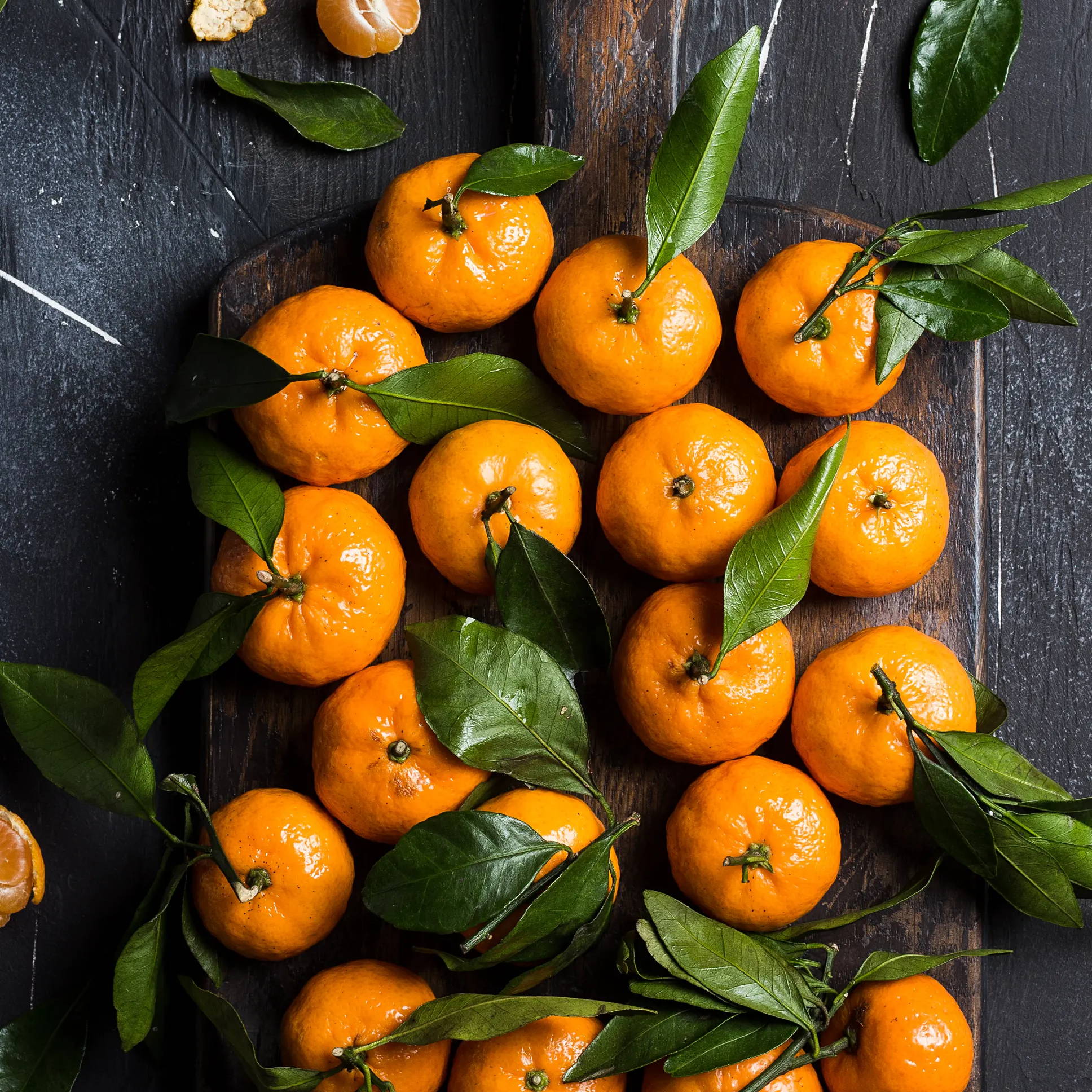 ---
Poached Pears with Date Caramel
This delicious recipe uses Pears and Dates, which are both in our Fruit Boxes. You can make this sweet treat in advance and the Pears will soak up more of the flavour by sitting for a couple of days in your fridge, before reheating to serve. *chef's kiss*
Ingredients:
4 peeled Pears,

1 bottle of Cider,

200g sugar,

10g Mulled wine spices (or 1 sachet).
For the Caramel -
1 tin of condensed milk,

200g brown sugar,

100g Dates - pitted,

100g butter.
Method:
Place all the Pears in a small pan so they fit nice and snug. Top with the cider, sugar and spices and bring to the boil. Turn down to a simmer and cook slowly for 20 - 30 minutes until a sharp knife just slides through them with little resistance.
For the Caramel - Place all the ingredients in the pan, cook for 5 minutes whilst stirring. You will notice the mixture turning darker, once you are happy with the colour of the Caramel (around 5 minutes), puree until smooth.
When you're ready to eat this Christmassy dessert, place your pears into a bowl and cover with Caramel. Savour every bite!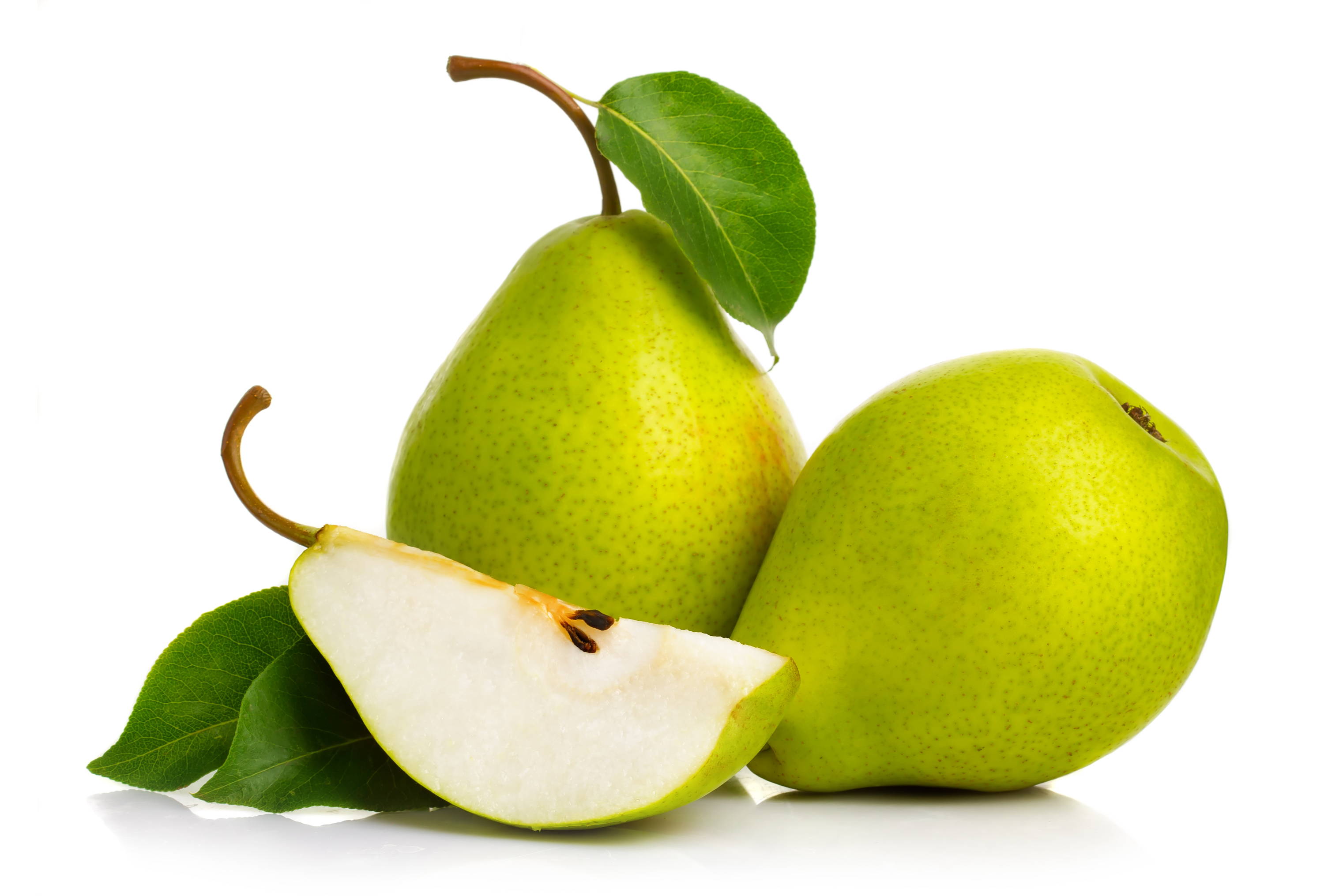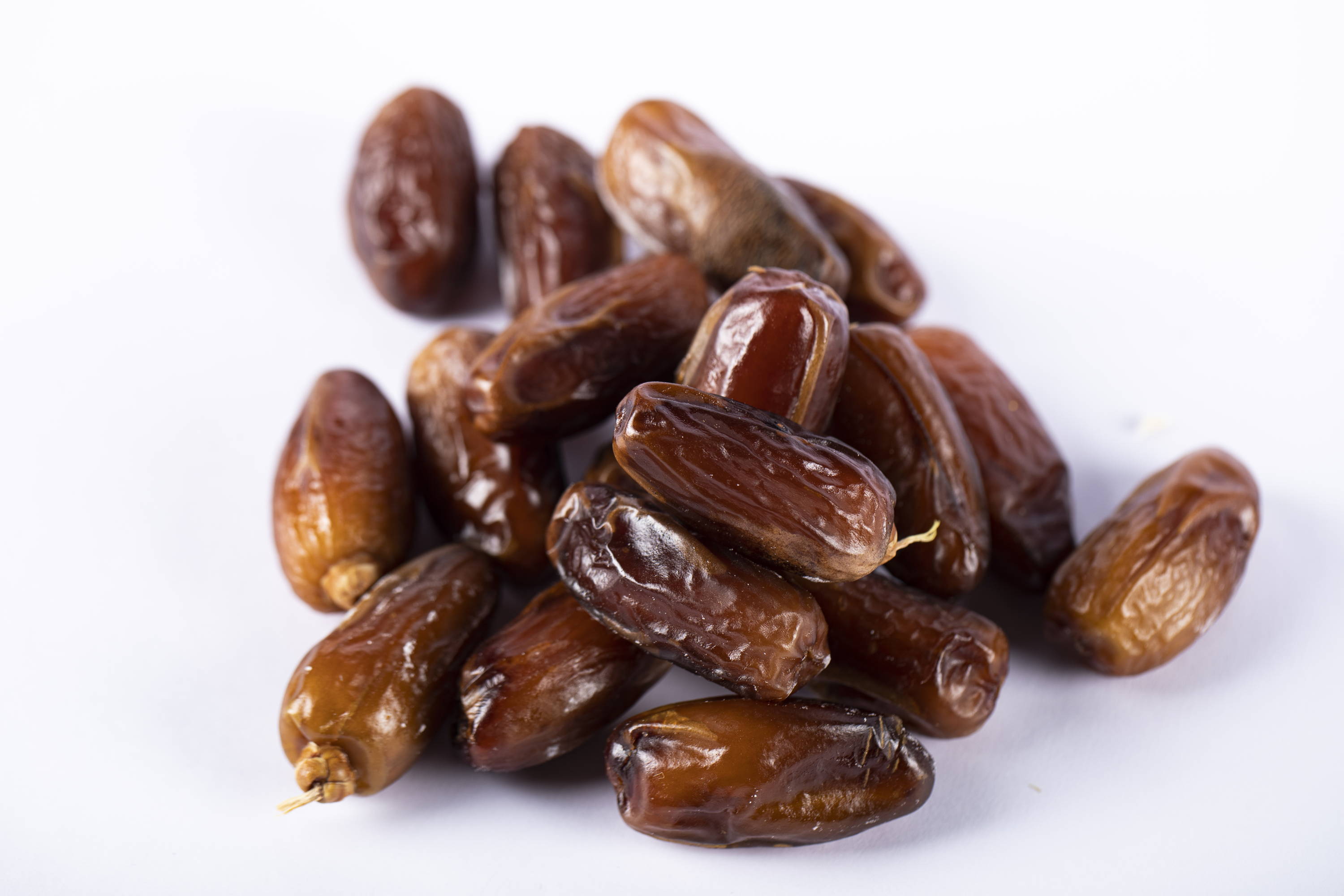 ---
Festive Mince Pie Twists
This recipe is super easy and can be passed around your family when you're playing board games or catching up on Christmas television. Swap the Orange for a Clementine, which is included in our Christmas Essential Fruit Box, for an extra festive touch. I made the twists at the weekend and can confirm they are as delicious as they look!

Best served warm and with a scoop of vanilla ice-cream or brandy cream. You can also make the pastries and leave in the fridge before popping in the oven when you want to eat them.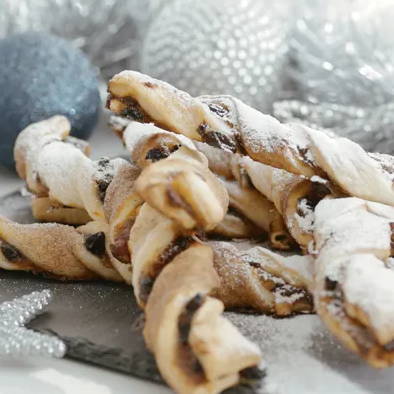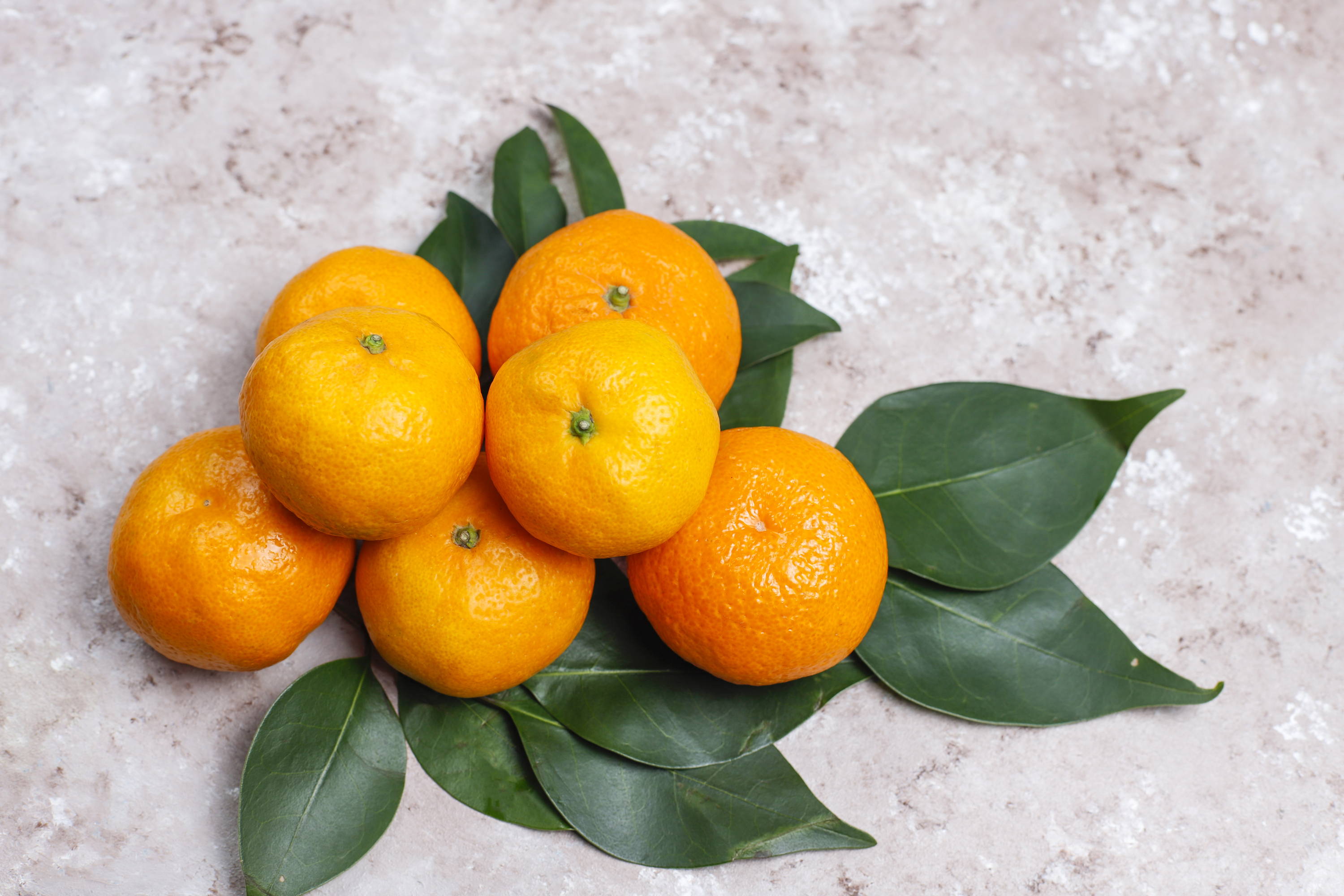 ---
Fragrant Mango and Apple Chutney
Here's a recipe to give as a gift for your friends or family that would prefer something more savoury! This Fragrant Mango and Apple Chutney would pair well with leftovers on Boxing Day, try and save some for your household! You can find Apples and Mango in our Christmas Fruit Box and most of the other ingredients should already be in your kitchen cupboards. Enjoy!
---
Fudgy Fig Roll
A slightly alternative Swiss roll recipe which includes dried figs, customise your dessert by covering with shavings of your favourite Chocolate or Chestnuts - make it your own!
---
Trifle
Now this one is always a centrepiece on our Christmas table after the main feast. This Trifle recipe is my lovely Mum's so if you make it for your family, make sure you pour lots of love into it, much like she will on Christmas Day! This recipe can be made ahead of time and kept in the fridge, ready for when you want something sweet.
Ingredients:
Sherry - Harvey's or any cream Sherry,

Trifle sponges,

Jelly,

Tinned fruit x 2 - you can use Peach slices, Strawberries, Raspberries or whatever you fancy!

Blancmange (Strawberry or Raspberry flavour) or thick custard,

Double cream,

Flaked almonds or walnuts
Method:
Into a large dessert bowl (the bigger, the better!), place sponge fingers. Make up just under a pint of jelly. Add generous amounts of Sherry and some of the canned fruit juices to make up to a pint. Then pour over the sponges,

Arrange tinned fruit on top,

Set in fridge,

Make up a pint of Blancmange,

If you prefer make some powdered custard to a thick consistency,

When cool and and your jelly mixture has set, add to the bowl,

When that is set, add whisked double cream,

Top with flaked almonds or walnuts. You could use shavings of Clementine zest for that festive feel, or whatever toppings you like!
Enjoy!
---
Mince Pies
It wouldn't be a selection of Christmas desserts if we didn't include the classic mince pies! If you've never made your own before, why not give them a go? It will be so worth it when they're warm from the oven, served with fresh cream or vanilla ice-cream.
Have fun with this recipe and create your own pastry shapes to top your mince pies. Christmas trees, stars, hearts or whatever you fancy!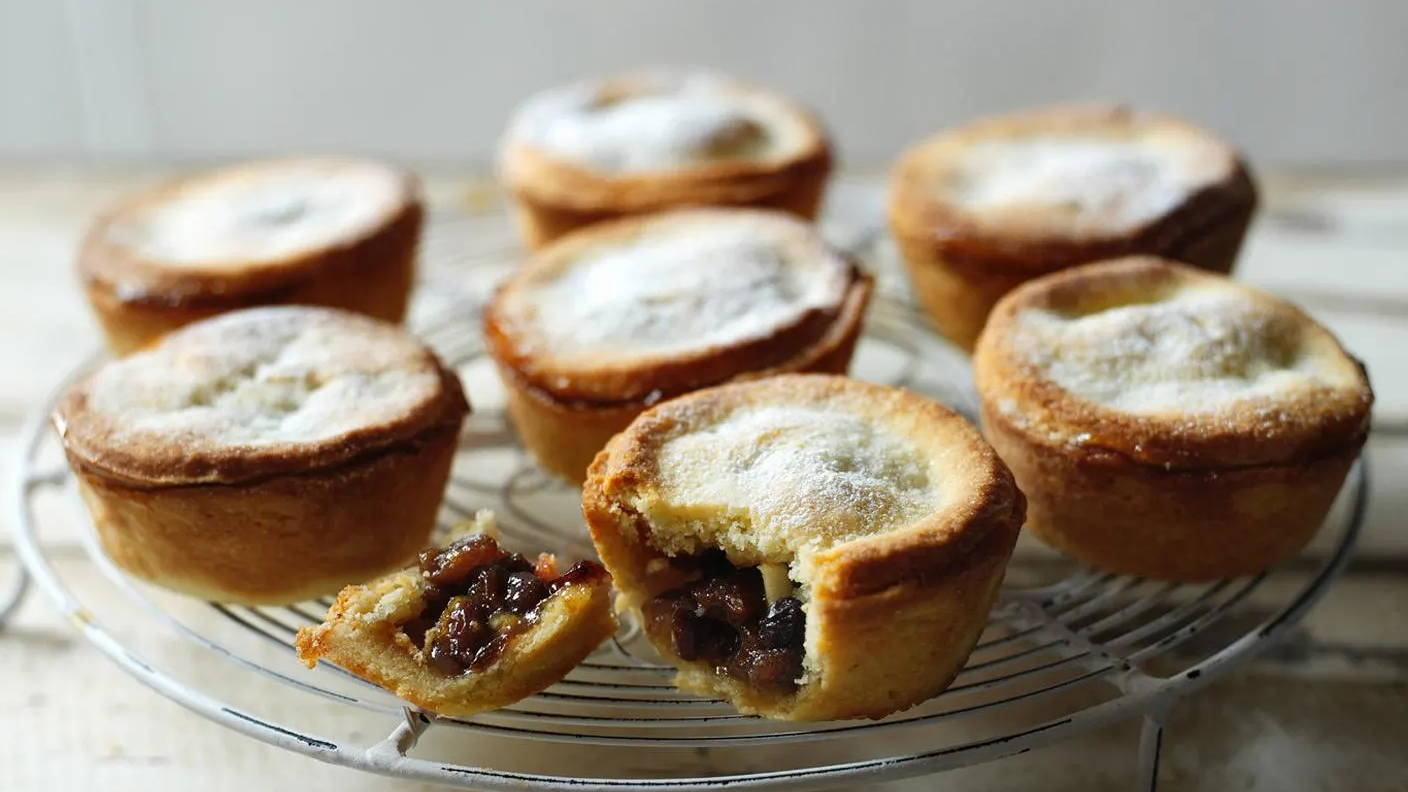 ---
Mulled Wine Chutney
And last, by no means least! This Chutney is ideal for the guests who aren't sweet toothed, it would go perfectly with a cheese board, alongside Grapes, Figs and Dates.
Ingredients:
500g Red onion - sliced,

10g Mulled wine spice mix (or 1 sachet),

150g Brown Sugar,

100ml Red wine vinegar,

50ml Port,

1 Clementine zest and juice.
Method:
Caramelise the sliced red onions on a low heat for around 1 hour,

Add the rest of the ingredients and cook for 20 minutes until the chutney is lovely and thick,

Pour into sterile jars.
Get your kids involved by making personalised labels!
My last handy tip for the Mulled Wine drinkers, why not add some almonds and raisins to your wine so when you reach the bottom of your tipple, you've got some mulled fruit and nuts to snack on! After all, it is Christmas!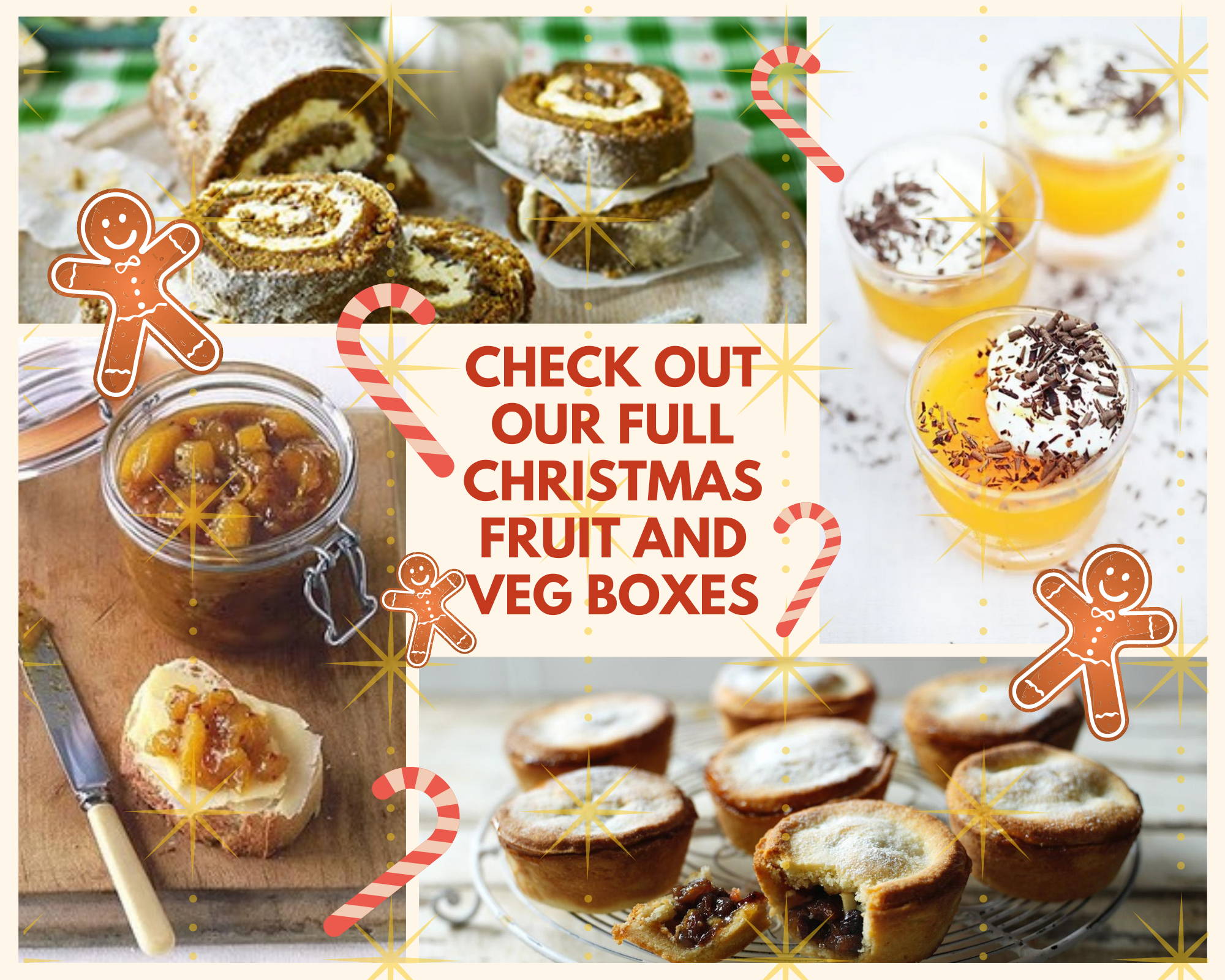 I hope these desserts have given you some inspiration, don't forget to order your Essential Christmas Fruit Box from us - happy festive baking!
Thank you for reading!