Reading time: 5 minutes
What's covered:
Find out about this years' Christmas flower trends
Links to our products that reflect the trends
When it comes to Christmas Flowers, we understand how important it is to our customers to make a statement in their homes, from a bright neon colour scheme to classic red and gold and everything in between. We have done the hard work, researching the latest trends for Christmas flowers this year, allowing you to pick and choose which trends you want to emulate in your home. If you're after some inspiration or to simply read more about the trends this year, let's get stuck in!
---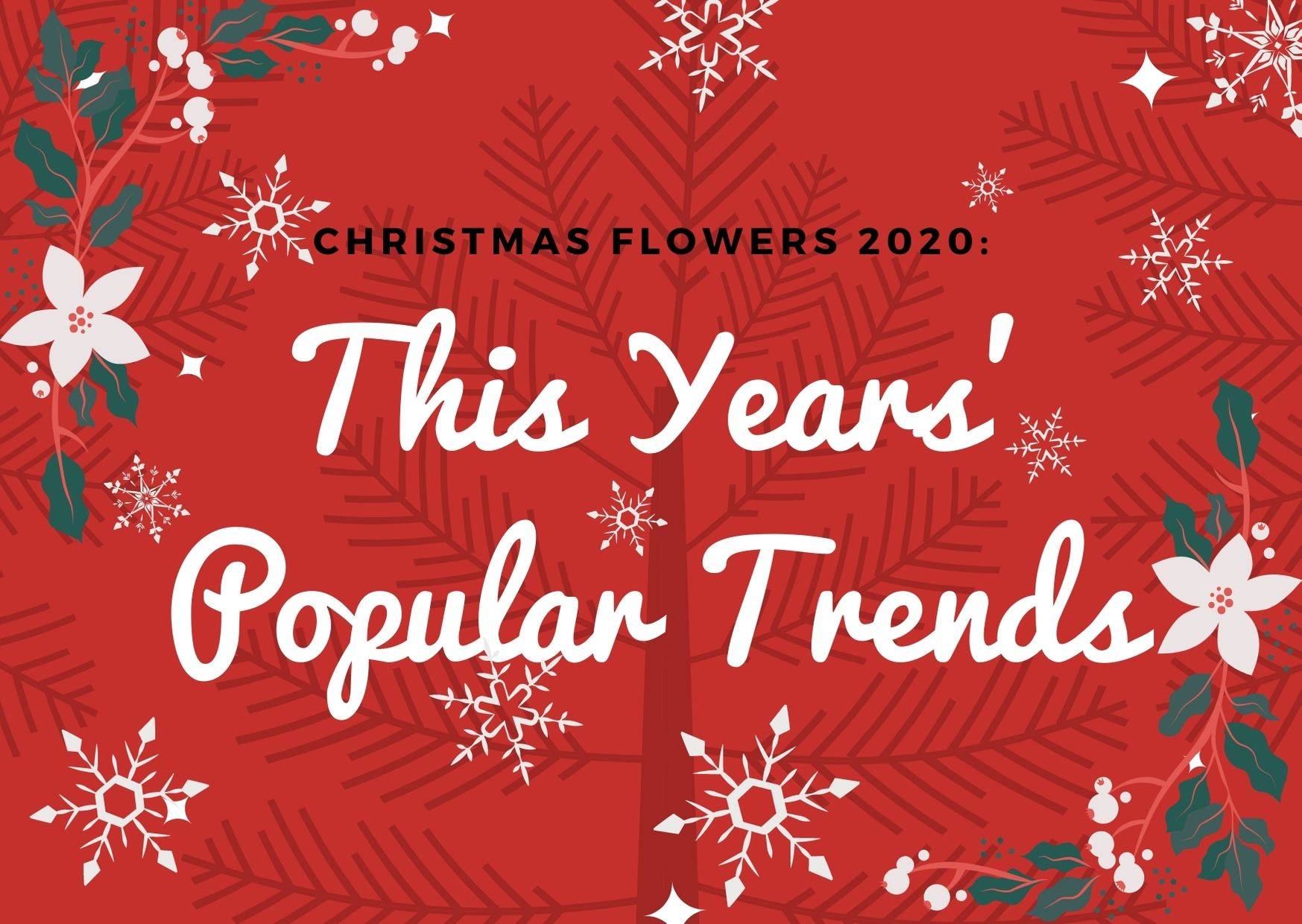 ---
Winter Greenery 
First up is an extremely popular trend this year, Winter Greenery, focusing on earthy colours and the variety of tints, tones and shades of Green, with complimentary crisp Whites. White Greenery calls for soft and natural movement within your floral arrangements. This trend is suitable for any decor and if you have an artificial Christmas tree in your home with snowy branches, then you're already one step closer to embodying this 2020 trend.
Tips to achieve this trend: display flowers with a variety of textures, use Linen fabric to drape over your Christmas table, display decorations with hand drawn animals but most importantly, keep it simple and let your flowers do the talking.
Flower and foliage suggestions: Hellebore, Amaryllis, Eucalyptus, Juniper, Cedar and Dusty Miller.
---
Wild and natural
This is one of my favourite trends, I have always loved floral designs that don't hold back, have plenty of movement and are a bit wild and crazy! This trend definitely calls for arrangements that are seasonal and dried flowers go hand in hand with the wild and natural trend. Dried flowers are really in demand this year, so why not try incorporating them into your festive decorations? Check out the information on the Sustanibility trend for tips on drying flowers.

Tips to achieve this trend: display your flowers in a natural coloured vase, forage for branches to add to your flowers or to simply place in a vase as they are and don't worry about the colour scheme! Pinks with blues and yellows with purples, go for it!
Flower and foliage suggestions: Iris, Green Bell, Clematis, Waxflower and use a variety of foliages.
---
The Brightest Colours

The next trend is definitely the most glamorous and over the top! The Brighest Colours trend channels a variety of colours, textures and unexpected combinations. Your home will be injected with a dose of personality and vibrancy with this trend. If, like me, your favourite colour is pink, pair with bright purples, greens and all that glitters! Architectural and dramatic flowers work perfectly, see below for suggestions to make this trend your own. If this trend sounds right up your street, it's time to get those retro Christmas decorations out of the loft, they're back in fashion!

Tips to achieve this trend: use sprayed (metallic and glitter, in clashing colours) foliage and decoration (pine cones, cinammon sticks and more), use Velvet ribbon in your Christmas wreath and if you haven't decorated your Christmas tree yet, go for a spectrum of baubles and ornaments. More is more!

Flower and foliage suggestions: Anthurium, Orchids, tropical leaves (Monstera, Aspidistra and Fatsia are great examples) and brightly coloured Roses.
Soft Neutrals and Minimalist Styling
If bright and loud colours aren't your bag this year, this classic trend brings a fresh and light palette into your home, the range of muted pastel shades creates a calming and relaxing environment. Soft Neutrals is similar to Winter Greenery but the colour scheme uses a range of white shades, through to a variety of muted pale colours. Use a variety of textures in your floral displays and don't over arrange the flowers, allow them to sit naturally.

Tips to achieve this trend: don't use any bright colours, display your flowers in a simple vase and less is more for this trend!

Flower and foliage suggestions: Astilbe, Waxflower, Asparagus, Pussy Willow and Eucalyptus.

Sustainability

This year, more than ever, has shown how important it is to do your bit for the planet and there are definitely things you can do with your Christmas flowers this year to become that little bit more sustainable and eco-friendly. Although this may not be a trend to show which flowers or colours you could display in your homes (we have featured a few seasonal options for you), here are some helpful tips to become more environmentally conscious:
Make sure you recycle and reuse any packaging (that you can) from your flower deliveries,

Drying flowers is a great way to preserve your flowers forever! Don't use any fresh material that has wilted. Tie your flowers at the end of the stems and hang upside down, drying times can vary from 1-3+ weeks,

Choose seasonal flowers,

Recycle old jars and use them as vessels to display your beautiful blooms,

If you have any preserved material in your flower delivery, keep them! They will last.
Velvet and Silk Ribbon
Velvet and silk ribbons have been very popular on Christmas wreaths this year, adding a luxurious feel. You can add a bow on your wreath or use the ribbon to drape down from the design, adding more drama! The ribbon can be a complimentary colour to the colour scheme used or add a contrasting ribbon to create a bold look. The same ideas can be applied to your Christmas flowers, tie your choice of ribbon around the vase or create small bows and wind wire around to then place within your bouquet, or both!
Tips to achieve this trend: Stick to 1 or 2 ribbon colours that compliment each other and you could even use old pieces of silk or velvet fabric, simply cut to size and tie in a ribbon or big knot.
Flower and foliage suggestions: anything and everything!
We hope you're feeling inspired and want to get your creative juices flowing, don't forget to tag us on social media so we can see how you channel these trends! @novablooms
Thank you for reading!